Delegation to Brazil January 2012
Delegation a sucess! Read one account of the experience by Jonah - natural building facilitator - here.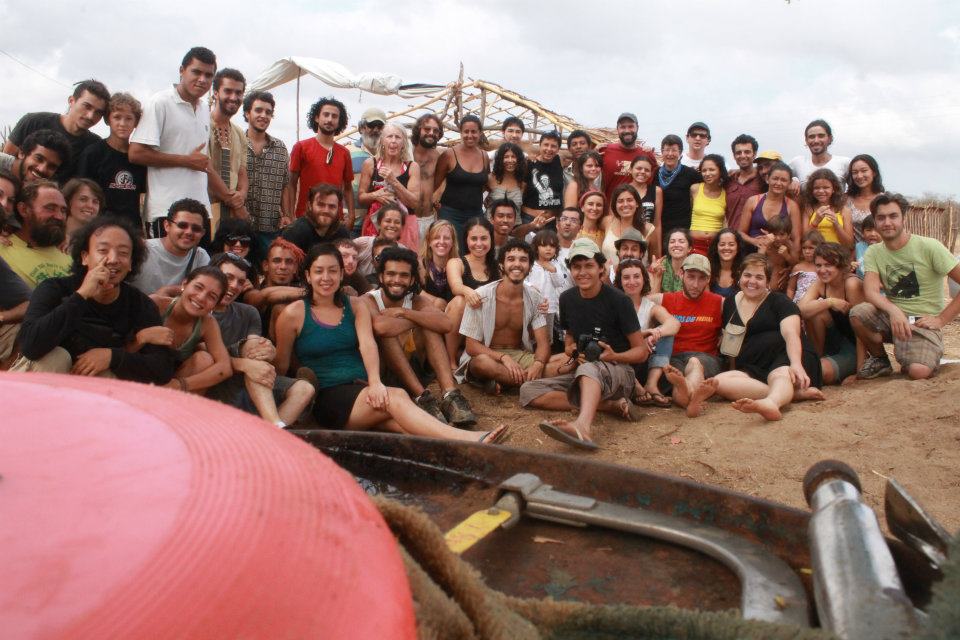 The delgation took place from January 10 - 21, 2012 in Northeast Brazil, State of Ceará (in and around the City of Fortaleza. It was a collaboration between Ciclovida: an International Group of Activists, Landless Farmers and Filmmakers along with Hudson Valley Natural Building (http://www.hvnb.net) and Kleiwerks (http://www.kleiwerks.org), and Breakline Media.
Participants experienced sustainability and permaculture in the deepest sense: a new relationship with the land. It included full trainings on NATURAL BUILDING, FOREST GARDENS, and BIKE POWER CONSTRUCTION.
The trip also included visits to: Landless Workers Movements Communities resisting displacement due to infrastructure projects for the World Cup coming to Brazil in 2014, and Indigenous communities working for self-determination.
There were also daily language exchanges and interpretation services.
The Natural Building portion of the delegation focused around a healing house. This project offered the opportunity to work with multiple natural building techniques using locally available resources. Participants gained a comprehensive understanding of how natural materials work, and how to apply them to a range of different building practices and projects. It was about understanding, not the specific project (though the project was awesome!).
More info on the visits: For the first half of the delegation involved traveling around the state of Ceará with a group from the Ciclovida community. Here is more info on some of the communities visited. Here's a map of the locations.
1. Fortaleza (pop 3.3 million) is one of the 12 host cities for the 2014 FIFA World Cup and is receiving over US$5 billion for infrastructure projects, which is being used to carry out social cleansing of poor communities. But these communities are not going away quietly, in fact, they are resisting with powerful social movements in collaboration with the anarchist group Organização Resistência LIbertária, who is a big Ciclovida supporter (in fact, we did a short documentary together on this Right to the City movement, which you can watch online HERE).
2. Just outside of Fortaleza there is an indigenous community, Jeripapo-Kanindé, that just won their demarcation of their land but still struggles to keep large sugar-cane companies away from their lake - a beautiful blue lagoon surrounded by dunes and a short walk to the beach. This community is one of several in the region that are working to maintain cultural knowledge with community indigenous museums and traditional pow-wows. They have sustainable-visitors project / guest house and it will be a good place for us to get to build community, relax and be inspired by powerful resistance. This community was featured in the Ciclovida companion documentary "Agrofuels: Industrial Agriculture's Attack on People and the Planet" and a one-minute clip is available online here.
3. The second half of the delegation took place at the Ciclovida community (named Assentamento Barra do Lemme) in Pentecoste, Ceará. This land was occupied by the workers and is one of the few worker-occupied farms in the whole northeast region that is working to do ecological projects. Their project is based in a search for a New Relationship with the Land. This is where the Natural Building, Small Windmill, and Bike Generator workshops, amongst others took place.
MAP OF VISIT LOCATIONS:


View Brazil Locations in a larger map