A Feature-Length Documentary
Film Synopsis
Ciclovida: Lifecycle (76 minutes) follows a group of landless farmers and musicians from northeast Brazil who traverse the entire South American continent by bike in search of natural seeds and expose the devastating effects of industrial agriculture destined for agrofuel (large, unsustainable biofuel).
A 28 minute educational supplement to the feature film:
Agrofuels: Starving People, Fueling Greed
Delves into depth about the issues of growing monocrops for fuel. Beyond widely discussed concerns about using diverting food crops to the production of fuel, so-called "second generation agrofuels" – or cellulose-based fuels – also have detrimental effects on indigenous communities, small farmers and the environment.
This short provides critical evidence and leaves viewers with hope from grassroots communities building real alternatives.
While agrofuels (or with their misleading, green-oriented name, biofuels) grow as a supposed solution to oil and climate crises, the voices of those most immediately affected, displaced farmers and indigenous peoples, are drowned out. Agrofuels contributes to a global movement working to take back peoples' control over their seeds, food, and lives, by exposing the impacts of the large-scale biofuel industry and inspiring individuals to take action and question the current trends in agriculture.
Purchase Institutional Screening Rights from Media Education Foundation:
Buy the Films for Institutional Screenings
CICLOVIDA: LIFECYCLE
FEATURE FILM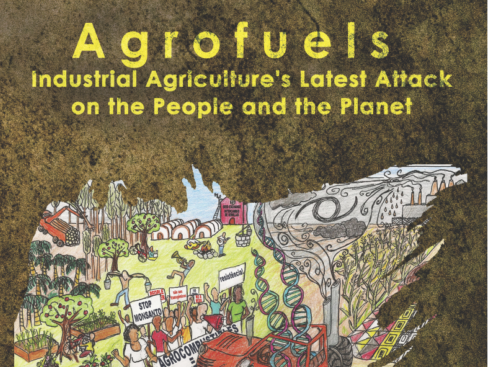 AGROFUELS
SHORT EDUCATIONAL FILM
Purchase Institutional Screening Rights from Media Education Foundation
PURCHASE A DVD DIRECTLY FROM THE FILMMAKERS
FEATURE FILM DVD
Order the DVD here.
IVANIA CAVALCANTE DE ALENCAR
Concept and Co-Direction
Protagonist
MANOEL INACIO DO NASCIMENTO
Concept and Co-Direction
Protagonist
LOREN FEINSTEIN
Original Soundtrack
Co-Direction, Production, Editing, Camera
Matt feinstein
Direction, Production, Editing, Camera
Other Team Members:
Andrew Killoy (Post Production), Ben Stumpf (Post Production), Philipe Ribeiro (Brazil Production)